Why Self-Care Is So Important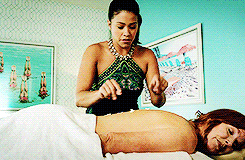 Why is it that we can take time to help and care for everyone but ourselves most of the time? We often put so much time into work, family, volunteering, etc. that we forget about what we really want or need. Sometimes it is absolutely fine being a little selfish.
Taking time to care for yourself not just physically, but emotionally and mentally is very essential. If you are not healthy and happy then other people in your life become affected by the results. When we aren't happy with our lives we tend to become mean or moody, fatigued, ill, or anti-social in some cases.
So what are some things that you can do to take care of your well-being?
Massage: Your body will thank you. Massage helps release toxins, tensions, and stress from the body. It also aids in relaxation, promotes sleep, and releases endorphins (mood booster). If you are as active as I am, massage also helps increase flexibility and prevent muscle soreness.
Vacation: We all need it! This is YOUR time to relax, have fun, and take your mind off all the serious things and responsibilities for a few days. Your type of vacation is up to you. Sometimes the best vacations are ones you go on alone or with a close friend/significant other.
Yoga/Meditation: Ommmmmmm. Yup, that's right. Singing "Omm" may seem silly but that's probably the most relaxing thing that you can do. Yoga is not just a great workout but you get to connect the mind and the body. Sometimes our mind and body tell us two different things. During yoga or any meditation, you get to connect to both and help them work together. Some benefits of yoga are increased strength and flexibility, body awareness, stress relief, muscle strength, and sleep aid.
These are just a few of my suggestions but self care can literally be anything that makes you happy and allows you to disconnect with the real world for a while. Maybe shopping, getting a pedicure, or hitting up a spa is your remedy. Whatever it is, make sure you take the time to give it to yourself!